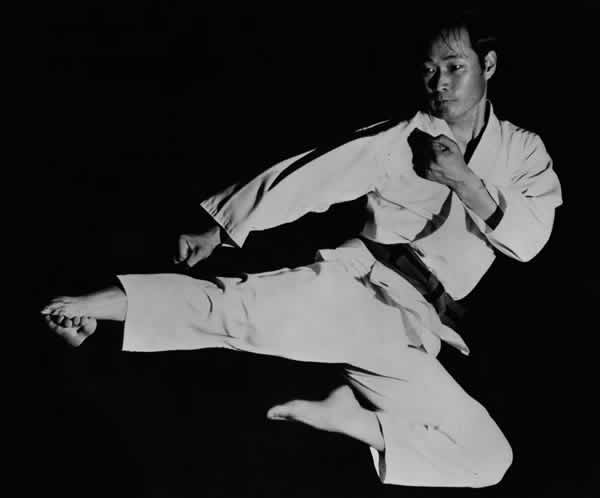 GRANDMASTER MOO YONG LEE
9th Degree Taekwondo Black Belt
(Certified by Kukkiwon/Headquaters of World Taekwondo)

For well over 60 years, Grandmaster Moo Yong Lee has been well-known and highly regarded by the worldwide sports community. An early pioneer who helped to spread the Korean art of Taekwondo to the United States, he is one of only a handful of individuals who hold the highest rank of 9th degree Black Belt, and is recognized by fellow instructors worldwide as a man of impeccable integrity and dedication.

Moo Yong Lee championed the inclusion of Taekwondo as an Olympic sport and in the early '80s played a formative role in the establishment of the United States Taekwondo Union—which was later to become USA Taekwondo, the U.S. National Governing Body of Olympic Taekwondo. He served as president of the organization from 1985-1986 and is the current president of the United States Taekwondo Instructors Union (USTIU), an organization he founded in 1991.
A natural leader through his own example of total commitment and hard work, Grandmaster Lee—simply "Mr. Lee" to his long-time students—still humbly considers himself to be a student of his beloved art, and continues to teach with kindness and humor at the school he founded in East Hartford, Connecticut in 1974. Over the course of his career, he has trained and certified more than 550 Black Belts, and it is a tribute to the effectiveness of his instruction that a great many of his students—now masters and grandmasters themselves—continue to train and learn with him.


A partial list of Grandmaster Moo Yong Lee's achievements includes:
In the Taekwondo Field
May 7, 2013
• President's Council on Fitness, Sports and Nutrition Lifetime Achievement Award (Washington, DC)
National winner of prestigous award honoring those who have greatly contributed to the advancement or promotion of physical activity, fitness, sports, or nutrition nationwide.

1991-present
• President, United States Taekwondo Instructors' Union
Established President Cup Tournament and Provided Winners $10,000 Scholarship every year from 1995 to 2009

1991
• Arbitration Board, 10th World Taekwondo Championships

February 7, 1990
• Promoted to 9th Degree Black Belt which is highest Taekwondo Rank ( 2nd person promoted to 9th Degree Black Belt in USA)

1989-1991
• Auditor, Executive Council, World Taekwondo Federation

1989
• Arbitration Board, 9th World Taekwondo Championships

1988
• Arbitration Board, 1988 Summer Olympics Games

1987-present
• President & Tournament Chairman, U.S. Cup Taekwondo (Taking Team to Overseas every year for Good-Will Game.

1987
• Arbitration Board, 8th World Taekwondo Championships

1986
• NGB Coordinator, U.S. Olympic Festival
• Founder and Tournament Director, World Cup TKD (Olympic Training Center)

1985-1989
• Executive Council, World Taekwondo Federation
• Member, United States Olympic Committee (Team Services Committee)

1985-1988
• House Delegate, United States Olympic Committee

1985-1986
• President, United States Taekwondo Union (now USA Taekwondo)

1985
• Liaison, Association of National Olympic Committee (ANOC) Meeting
• Tournament Director, 11th National TKD Championships
• U.S. Chief Delegate, 7th World Taekwondo Championships

1984
• U.S. Chief Delegate, 4th Pan American TKD Championships

1983
• Head of U.S. Team, 1st International Collegiate Taekwondo Championships

1983
• Manager of U.S. Team, 6th World Taekwondo Championships
• David G. Rivenes (AAU National Chairman) Award for outstanding leadership & service
1982
• Manager of U.S. Team, 3rd Pan American TKD Championships
• Alternate U.S. Chief Delegate, 5th World TKD Championships

1977-1984
• President, Connecticut State Taekwondo Association

1977-1980
• Advisor, National AAU Taekwondo Union

1977-1979
• Chairman, National AAU Taekwondo Union Region 1

Other Contributions:
December 3, 2004
• Received "Presidential Award" by President of Republic of Korea, His Excellency Ro, Moo Hyun for Great Achievement and Outstanding Contribution to Korean American

1999 – Present
• Founder & Chairman, Korean American Charity Foundation
Established "Governor's Cup Golf Classic" to provide Scholarship to Students

1995-2005 and 2007 - Present
• Member, National Unification (Korea) Advisory Council New Chapter
(Appointed by President of Republic of Korea for 8th Sessions)

1992 – 1995
• Campaigned along with Congressman Toby Roth "Taekwondo In Olympic Year 2000" in an effort to Taekwondo be in 2000 year Olympic Stage

1991 – Present
• Standing Board of Director, Korean American Association of Connecticut

1989 – 1990
• President, Korean American Association of Connecticut

1975 - 1988
• Advisor & Board of Director, Korean American Association of Connecticut